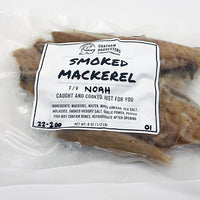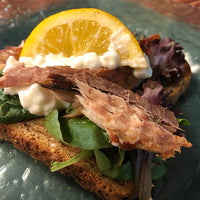 The Chatham Fisherman's Co-op in Cape Cod offers the freshest and most delicious smoked mackerel you'll ever taste. Our mackerel is caught by local fishermen using sustainable methods and then expertly smoked to perfection using a blend of natural hardwoods. The result is a rich, smoky flavor with a delicate texture that melts in your mouth.
This smoked mackerel is a versatile ingredient that can be used in a variety of dishes. It's perfect as a topping for salads, as a spread for sandwiches, or simply on its own as a tasty snack. It's also high in omega-3 fatty acids, making it a healthy and nutritious addition to any diet.
Chatham Fisherman's Co-op takes great pride in their commitment to sustainability and supporting the local fishing community. By purchasing their smoked mackerel, you can feel good knowing that you are supporting a responsible and environmentally-friendly business.
Smoked Mackerel from Chatham Fisherman's Co-op is available in vacuum-sealed packages, ensuring the freshness and flavor of the product. Order yours today and taste the difference that well-handled, sustainably-caught seafood makes.
Share