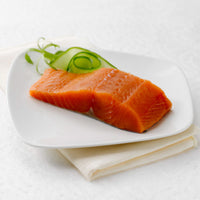 These are Approx Half-pound portions (5-8oz.)
Great for the grill, feeding the family, or smoking. Wild-caught in Kodiak, Prince William Sound, and Southeast Alaska, Coho Salmon is a medium-fatty salmon with a delicate flavor, known for its distinct orange-red meat. Its firm texture makes it amazing for grilling and is very versatile, pairing well with almost anything.

Sustainability
Salmon populations in Alaska are closely monitored, not only for their economic value but also for their deep cultural significance.

Every year, the Pacific Fishery Management Council reviews reports of the previous fishing season and current estimates of salmon abundance to prevent overharvesting through limits on the fishing season length, quotas, and gear restrictions.
Two independent certification standards guarantee the responsible management of the Alaskan Coho fishery: the Alaska Responsible Fisheries Management (RFM) and the Marine Stewardship Council (MSC). (ASMI, Coho Salmon)
Our Coho is caught in the wild waters of Southeast Alaska and Kodiak Island.
Nutritional Benefits
Excellent source of high-quality protein, vitamins, and minerals.

Packed with Omega-3 fatty acids and protein.
Fun Facts
Coho belongs to one of the five species of salmon in Alaskan waters and is also known as Silver Salmon due to the metallic blue color of their flanks, which turn red during spawning season to attract a mate.

Like most other salmon species, they hatch in streams and migrate to the ocean, where they spend 2 - 3 years as adults before returning to their natal freshwater streams to spawn, sometimes traveling over 1,000 miles! (NOAA, Coho Salmon)
They can be found as far south as central California.
Share