Whole Dungeness Crab 2+ lbs.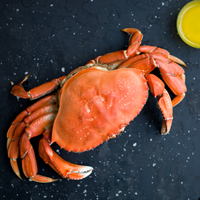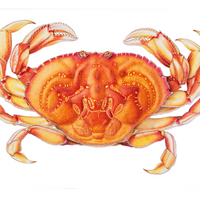 Having grown up in the Pacific Northwest, Dungeness Crab tis a special favorite of mine. It is sorely missed here in Buffalo where it is rarely available. Your flash frozen whole Dungeness (once I got it cleaned and cracked) was a wonderful holiday treat that brought special memories for my family and me.
Whole Dungeness Crab 2+ lbs.
Looking for a delicious and nutritious way to boost your health? Try Wild Alaska Dungeness crab! This seafood powerhouse is loaded with high-quality protein, omega-3 fatty acids, and vitamin B12. Crab is also an excellent source of other essential vitamins and minerals, including selenium, zinc, and copper. So dig in and enjoy all the amazing health benefits that crab has to offer!

These are whole cooked Alaskan Dungeness crabs.
Photos via ASMI
Looking for a protein-rich, omega-3 packed meal? Look no further than Wild Alaska Dungeness Crab. Our crab is loaded with B-12, making it an excellent source of energy and preventing neuron loss. With its complete protein content, Wild Alaska Dungeness Crab can help keep your skin, hair and nails looking their best.
Share